---
He is the guy next door - a man's man with the memory of a little boy. He has never gotten over the excitement of engines and sirens and danger.
He is a guy like you and me with wants and worries and unfulfilled dreams.
Yet he stands taller than most of us.
He is a fireman.
He puts it all on the line when the bell rings.
A fireman is at once the most fortunate and the least fortunate of men.
He is a man who saves lives because he has seen too much death.
He is a gentle man because he has seen the awesome power of violence out of control.
He is responsive to a child's laughter because his arms have held too many small bodies that will never laugh again.
He is a man who appreciates the simple pleasures of life - hot coffee held in numb, unbending fingers - a warm bed for bone and muscle compelled beyond feeling - the camaraderie of brave men - the divine peace and selfless service of a job well done in the name of all men.
He doesn't wear buttons or wave flags or shout obscenities.
When he marches, it is to honor a fallen comrade.
He doesn't preach the brotherhood of man.
He lives it.
Author unknown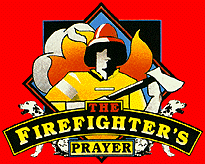 This prayer is dedicated to all those who have gone before me and who will follow me in the line
When I am called to duty, God, wherever flames may rage,
Give me the strength to save some life whatever be its age.
Help me embrace a little child before it is too late, or save an
older person from the horror of that fate.
Enable me to be alert and hear the weakest shout, and quickly and efficiently
to put the fire out. I want to fill my calling and to give the best in me,
to guard my every neighbor and protect his property.
And if according to my fate I am to lose my life this day,
Please bless with your protecting hand my family this I pray.

My father was a fireman.
He drove a big red truck
and when he'd go to work each day
he'd say "Mother wish me luck".
Then Dad would not come home again
'til some time the next day.
But the thing that bothered me the most
was the thingÕs some folks would say,
"A fireman's life is easy,
he eats and sleeps and plays,
and sometime's he won't fight a fire
for days and days and day's".
When I first heard these words
I was to young to understand
but I knew when people had trouble
Dad was there to lend a hand.
Then my father went to work one day
and he kissed us all goodbye
but little did we realize
that night we all would cry.
My father lost his life that night
when the floor gave way below
and I'd wondered why he'd risked his life
for someone he didn't know.
But now I truly realize
the greatest gift a man can give
is to lay his life upon the line
so that someone else might live.
So as we go from day to day
and we pray to God above
say a prayer for your local Firemen.
He may save the one's you love.
Carved in stone at the National Monument for
Fallen Firefighters Colorado Springs, Co.


A firefighter poem
HE STARES IN THE FACE OF DEATH
WITHOUT A SECOND THOUGHT
TO SAVE THAT ONE SPECIAL LIFE
THAT HE SO BRAVELY SOUGHT
HE HAS WALKED AS CLOSE TO
"HELL ON EARTH"
AS ANY MAN COULD DO
AND HE'S SO PROUD OF THE JOB HE DID
FOR PEOPLE HE NEVER KNEW
HE PUTS HIS LIFE ON THE LINE
EVERYTIME DUTY CALLS
ALWAYS DOING WHAT NEEDS TO DONE
WITHOUT EVEN A PAUSE
HE IS A FIREMAN
WITH OVERWHELMING PRIDE
NEVER AFRAID TO TAKE A CHANCE
WHEN SAVING SOMEONES LIFE
OFTEN HE SAYS
"IT'S MY JOB"
BUT WE REALLY KNOW
THAT HE IS VERY SPECIAL
AND ALWAYS READY TO GO
SO WHEN YOU HEAR THE SIRENS WAIL
OR SEE THE FLASHING LIGHTS
STAND ASIDE AND LOOK WITH PRIDE
HE'S GOING TO SAVE A LIFE.
KLB
I THINK FIREMEN DO NOT GET ENOUGH PRAISE......
LIVE LIFE LIKE THERE'S NO TOMMORROW!!!!
By Kathy Bond


I promise concern for others.
A willingness to help all those in need.
I promise courage - courage to face an conquer my fears.
Courage to share and endure the ordeal of those who need me.
I promise strength - strength of heart to bear whatever burdens
might be placed upon me.
Strength of body to deliver to safety all those placed within my care.
I promise the wisdom to lead, the compassion to comfort,
and the love to serve unselfishly whenever I am called
Author unknow

I'm laying in the darkness, I cannot fall asleep.
I wonder where my husband is, I wish he'd call or beep.
I saw him leave this morning, the black boots on his feet.
He said he had to run now, and I know he's on the street.
You'll know him when You see him, his truck is very loud.
He has no time to stop now, he doesn't want a crowd.
A caller said "Please hurry!" Come quickly if you will.
A young man with a motorbike is laying very still.
A mother calls in anguish, her child limp and blue.
HURRY! Come, I need you! I don't know what to do.
I hear his key turning, he's coming in the door.
I hear him drop his boots, then footsteps on the floor.
I hear him in the kitchen, I can tell from his walk,
He'll soon come and wake me, and ask if we can talk.
We'll sit out in the moonlight, and listen to the night.
He talks about a shooting, a streetgang in a fight.
A car crash, a drowning, a small child hurt at play.
The things he needs to talk about, the things he did today.
The old, the sick, the injured, some so very small.
He did all he could to help them, he answered every call.
Every day he has a mission, he knows it in his heart.
He does everything he can and always does his part.
If you are sick or injured and you need to reach my Hon,
I can tell you how to reach him, his number is ......911.

A Firefighter's Wife

The pagers go off, calling us out.
The dispatcher gives the address, with a loud shout.
I jump out of bed as fast as I can.
Grab my shoes and my keys as they page us again.
I go out to my truck, plug in the dash light.
Cause somewhere in town is a fire I must fight.
Wipeing the sleep from my eyes, I see a bright glow in the distance.
A policeman yells over the radio "Code 3, I need assistance"
He said there is screaming, coming from inside.
I think to myself, someone is trapped, but alive.
The pain they must feel, I can't imagine the scare.
I see the station up the road, the chief's already there.
I pray to God "Please let us get there in time,
To save an unknown life, Lord if you must, instead take mine."
I speed up a little faster, but still driving safe.
Still praying to God that I won't be too late.
I finally get to the station, put on my turn out gear.
The chief starts the fire engine and yells "We're outta here!"
The sirens sound off, the red strobe are so bright,
I pray once again,"Lord watch over us tonight."
I suit up for action putting on the S.C.B.A.
The chief makes the comment "Boys the Devil wants to play!"
We arrive on scene, not ever thinking one time,
"Why am I doing this?" or "Why do I put my life on the line?"
As we observe the silence and think "this person is dead."
All of a sudden I see the shadow of a small head.
Looking real hard, trying to figure out what it is.
Oh dear Lord, it can't be. It's just a small kid.
Then all of sudden the head moved, "this kid's still alive!"
So I try to reassure her by yelling "Everything's gonna be alright!"
I always said "I'd die if it would save another life."
But never once did i think that it could happen tonight.
I run to the front door, Kick it open and run in.
Praying once more,"God, we can't let the Devil win."
Crawling on the floor, moving slowly toward the crying.
I noticed a strong smell and loud hissing. Oh No! It's a gas line!
I knew I had to hurry so I got up and ran towards the cry
I found that little girl, she could barely open her eyes.
The smoke was thick and very hot and getting ready to flash.
I took off my jacket, wrapped her in it and gave her my air mask.
I heard a firefighter outside say, "The roof's coming down,
if they are getting out alive, they better get out right now."
I grabed the young girl as if she were a football,
tucked her in close and ran to the window.
The chief ran up and took her from my arm
My other one's broken, but at least she is out of the way of harm.
Then I remembered the gas line. So I too climbed out the window.
And sure enough, that gas line did blow.
The explosion knocked me down, but I got right back up on my feet.
Took no more than 3 steps, then I hit my knees.
Through my blurred vision, I watched that little girl,
with her mom and dad all crying, having a face with a smile.
She then walked over to me and grabbed me by the hand.
She said isn a soft sweet voice "Thank you Mr. Fireman."
We put out the fire, got ready to go home one more time.
I helped roll the hoses, thanking God that nobody died.
And thank you Dear Lord for letting us be on time.


written by: Jerry L. Duncan Jr.
East Carroll Parish
Fire Department
Lake Providence, LA

Young and aged
volunteer and career,
man and woman
of all races and colors,
you left aching hearts behind

An eternal flame
warms your names
inscribed on cold, lifeless plaques
around this stone cairn
In the hearts you left behind
your memories abide
in undying gratitude
You asked nothing more
You knew the risks,
served without fear
and paid the highest price
You embody a quality
of which many only dream
Your selfesness for others
is now your eternal crown
O fallen comrades,
give us all this quality
that we may more fittingly
prolong your memory
Annonymons
June 1999
National Fallen Firefighter Memorial
Emmittsburg, MD

Dedicated to John Pertgen . AVolunteer Firefighter/EMT for South Bay Fire Dept in Cicero, NY
BACK HOME AGAIN

The pager makes it's beeping noise,
The scanner comes to life.
You see excitement on his face
As he goes off to fight.

No matter what you're doing
Or whatever the current plan,
All you can say is "Later Hon"
As he gets those keys in hand.

You say a little prayer
That God will keep him safe,
That with all the pride and bravery
No one will make a mistake.

You know those men are Brothers
And fiercely will protect
The lives of each other and others--
They will truly give their best!

You and your "man's best friend"
Are both loyal and true.
You keep each other company
Waiting for him to return to you.

And when that front door opens
With "Honey I'm home" again,
You thank the Lord he's back OK,
Your brave and strong Fireman.

Submitted by:
Sherer, Donna, BCARE


Unsung Heros

The hours are hard and so is the job,
But I'd give it all so you wont sob.
To save your house, your life, your children,
I'll risk it all to enter the building.
Each day I leave my wife and child
To respond to the number that you dialed,
But if I go and do not live,
Please remember all we give.

Matt Snnokrak
FF/EMT, Homewood Fire Dept
Homewood IL
Dedicated to the 6 fireifghters who recently made the ultimate firefighter sacrafice and all the others that have gone before them.
The firefighters from IAFF Local 1009 Worcester, Massachusetts.

IF I COULD DESCRIBE A HERO
AND YOU'D ASK ME WHAT IT WOULD BE?

A FIREMAN I WOULD ANSWER AND THIS IS WHY YOU SEE

THEY GO INTO A FIRE NO MATTER HOW BIG OR SMALL.
THEY DO NOT HESITATE ONCE, AFTER YOU HAVE PLACED THAT CALL

FORGETTING ABOUT THEMSELVES AND DOING WHAT THEY LOVE AND KNOW
THIS IS NOT AN ACT NOR IS IT A SHOW

THEY WILL RACE DEEP WITHIN THE HEART OF A FIRE WE CALL THE BEAST
TO THEM BEATING IT IS THEIR ULTIMATE FEAST

TO THEM THIS IS THEIR JOB AND WHAT THEY LIKE TO DO
BUT I BELIEVE THIS IS WHERE THE UTMOST RESPECT IS DUE

RESPECT IS WHAT THEY DESERVE FROM EVERYONE ALL THE TIME
NOT JUST WHEN THEY LOOSE A BROTHER WHILE FIGHTING THAT FRONT LINE

FOR ALL THAT HAVE COME TO PAY THEIR RESPECT WHICH IS GREATLY DUE
JUST GO HOME AND THINK WHAT A FIREMAN MEANS TO YOU

THEY DO NOT RESPECT YOU PART OF THE TIME
OR ELSE THEIR LIVES THEY WOULD NOT LAY ON THE LINE

SO THE NEXT TIME YOU SEE A FIREMAN THIS IS WHAT YOU SHOULD DO
TELL THEM THEY ARE LOVED AND GIVE THEM THE RESPECT THEY ARE DUE

THIS COMES TO YOU FROM THE BOTTOM OF MY HEART
I WANT ALL YOU FIREFIGHTERS TO KNOW MY LIFE YOU ARE A PART

I WISH YOU ALL THE BEST AND HOPE YOU'LL ALL STAY SAFE
I KNOW AT LEAST IN MY HEART YOU ALL HAVE A SPACE

LOVE YOU GUYS

Luvinfiremen69@aol.com

My father is a fireman,
He used to respond to calls,
Now he just sits at home and does nothing at all.
He says the department is full of crap,
And are all egotistical and have too much pride,
When I know deep down he loves to ride.

Finally the day comes where the pager beeps,
There seems to be a fire in the barn holding some sheep,
He says this could be a good one and gets up to leave,
Little did I know later, I would grieve,
Once he arrived on scene there was fire through the roof,
"Surround and Drown" yelled the captain,
But that was not my father's gut reaction,
Soon they heard screaming coming from inside,
There seems to be a child and apparently still alive.

He struggled with his SCBA until he heard the familiar beep,
Got down on his knees and began to creep,
Soon he spotted the child under some burning hay,
But this was no time to start yelling "yay!"
For there was a hiss off in the distance,
This he knew from experience was a propane line,
And it would blow if he did not get out on time.

He undid his coat and removed his tank,
And gave it to the child so he did not die,
The fire at this time was raging and wild,
He tucked the child under his arm,
So the falling timbers would do him no harm,
As he scrambled to the window to throw the kid out.

All of a sudden the whole house flashed,
My father knew it he was trapped,
No air, No protection, the end was near,
But he still heard the hissing and that was clear,
The barn was gonna blow, but could he make it on time?
He fought with god, please be kind,
He knelt on his knees and began to pray,
He prayed for the child, he had just saved,
And prayed for the house begging it not to cave,
He looked around and noticed the corrosion,
Before he knew it, there was an explosion.

As I kneel down at his grave,
I cannot imagine what he went through,
To save the stranger he never knew.


Written by, CJ Heinbach
SRLFD in Loudonville, NY


"The Firefighters!"

In the battle against the beastly fire...
They stay together, ready to fight!
To help all the victims of every accident,
committed to rescue, by day and by night.

These are the courageous Firefighters,
In their cities and towns of every land.
They stand together as really true friends,
Routinely they're all working hand in hand.

Everyone of them looks after the other,
Their brotherhood knows no borders...!
They are ready to help in their unselfish way,
Without fear, they follow their orders!

Many of them gave their lives in New York,
On September the eleventh, two thousand and one...!
Firefighters everywhere will remember that day,
And their feelings of loss will never be gone.

Written by Hartmut Reinsch ©
(German-Canadian homeland poet)
Toronto, CANADA ~ Sept. 16th 2001

May we always remember their sacrifice,
in their quest to help and save the lives of innocent victims,
on that tragic day of Sept. 11. 2001 in New York City, USA.

~A word after..., from "ground zero!"~

What we are left with ,
surrounded by death and fear,
is our sense of loyalty and of duty...
which calls upon us
to place a shining beacon of hope in this world,
and to entrust the universal darkness
to the light of God.

H. Reinsch. Toronto 2001

PS. This poem "Tribute ton the FDNY" was sent to 160 FDNY Fire Stations,
since Sept. 16. 2001 by e- mail,
and was also entered on their web sites, in their guestbooks since then...!


"I Wish You Could Know"
I wish you could know what it is like to search a burning bedroom for
trapped children at 3AM, flames rolling above your head, your palms and
knees burning as you crawl, the floor sagging under your weight as the
kitchen below you burns.

I wish you could comprehend a wife's horror at 6 in the morning as I check
her husband of 40 years for a pulse and find none. I start CPR anyway,
hoping to bring him back, knowing intuitively it is too late. But wanting
his wife and family to know everything possible was done to try to save his life.

I wish you knew the unique smell of burning insulation, the taste of
soot-filled mucus, the feeling of intense heat through your turnout gear,
the sound of flames crackling, the eeriness of being able to see absolutely
nothing in dense smoke-sensations that I've become too familiar with.

I wish you could read my mind as I respond to a building fire "Is this A
false alarm or a working fire? How is the building constructed? What hazards
await me? Is anyone trapped?" Or to call, "What is wrong with the patient?
Is it minor or life-threatening? Is the caller really in distress or is he waiting for us with a 2x4 or a gun?"

I wish you could be in the emergency room as a doctor pronounces dead the
beautiful five-year old girl that I have been trying to save during the past
25 minutes. Who will never go on her first date or say the words, "I love you Mommy" again.

I wish you could know the frustration I feel in the cab of the engine, squad,
or my personal vehicle, the driver with his foot pressing down hard on the
pedal, my arm tugging again and again at the air horn chain, as you fail to
yield the right-of-way at an intersection or in traffic. When you need us
however, your first comment upon our arrival will be, "It took you forever to get here!"

I wish you could know my thoughts as I help extricate a girl of teenage years
from the remains of her automobile. "What if this was my daughter, sister, my
girlfriend or a friend? What were her parents reaction going to be when they
opened the door to find a police officer with hat in hand?"

I wish you could know how it feels to walk in the back door and greet my
parents and family, not having the heart to tell them that I nearly did not
come back from the last call.

I wish you could know how it feels dispatching officers, firefighters and
EMT's out and when we call for them and our heart drops because no one answers
back or to here a bone chilling 911 call of a child or wife needing assistance.

I wish you could feel the hurt as people verbally, and sometimes physically,
abuse us or belittle what I do, or as they express their attitudes of, "It will never happen to me.

I wish you could realize the physical, emotional and mental drain or missed
meals, lost sleep and forgone social activities, in addition to all the
tragedy my eyes have seen.

I wish you could know the brotherhood and self-satisfaction of helping save
a life or preserving someone's property, or being able to be there in time
of crisis, or creating order from total chaos.

I wish you could understand what it feels like to have a little boy tugging
at your arm and asking, "Is Mommy okay?" Not even being able to look in his
eyes without tears from your own and not knowing what to say. Or to have to
hold back a long time friend who watches his buddy having CPR done on him as
they take him away in the Medic Unit. You know all along he did not have his
seat belt on. A sensation that I have become too familiar with.

Unless you have lived with this kind of life, you will never truly understand
or appreciate who I am, we are, or what our job really means to us......

I wish you could though.

* author unknown *


"Hey mom!" He yelled from the attic door,

"What's these old heavy boots and hard hat for?"

With a lump in her throat and a tear stained cheek

His mother swallowed and started to speak.

"Come here my son," his mother said,

"There's things to tell when I clear my head."

The past races madly through her mind.

She searched her heart for the words to find.

At last she sighed and rubbed his hair

And the words that followed I'd like to share.

"Those boots & hat," She said with pride,

"Were worn by a man with grit inside.

He wore them to help people in need.

Though facing danger would never concede.

Many a time in the dead of night

He jumped in those boots and flashed out of sight

To answer a call, not knowing for sure

What danger or heartache he may have to endure.

Your father, my son, was not like most dads,

It was mainly because of the job he had.

His life was devoted to all of mankind,

Just why he chose it's not clear in my mind.

I've often regretted the life that we led,

When every third night I was alone in our bed.

But your mother is proud to say she was part

Of a man who possessed such a courageous heart.

So the memories I've kept & the love I will save

Are small consolations for the life that he gave.

Yet, for all his discomfort & all of his pain

The time that he spent here was never in vain."

I know full well these words to be true,

And not one word did she misconstrue.

But from all my mother shared that day

It's these last few words I'd like to convey.

My mother, with tears, save a long loving sigh,

And I knew what would follow was not meant to die.

With a smile so warm & a voice very weak,

She kissed my young brow & started to speak.

"Your father's days here made others seem brighter.

For your father, my son, was a firefighter."
This poem was taken from the bulletin board at Engine 50 CFD. The author is unknown.

Brother when you weep for me
Remember that it was meant to be
Lay me down and when you leave
Remember I'll be at your sleeve
In every dark and choking hall
I'll be there as you slowly crawl
On every roof in driving snow
I'll hold your coat and you will know
In cellars hot with searing heat
At windows where a gate you meet
In closets where young children hide
You know I'll be there at your side
The house from which I now respond
Is overstaffed with heroes gone
Men who answered one last bell
Did the job and did it well
As firemen we understand
That death's a card dealt in our hand
A card we hope we never play
But one we hold there anyway
That card is something we ignore
As we crawl across a weakened floor
For we know that we're the only prayer
For anyone that might be there
So remember as you wipe your tears
The joy I knew throughout the years
As I did the job I loved to do
I pray that thought will see you through

Author Unknown
Sent to me by: Candi Powell

A Firefighters Gloves hold many things
From elderly arms to a kids broken swing
From the hands they shake and the backs they pat
To the tiny claw marks of another treed cat
At 2 am they are filled with chrome
From the DWI who was on her way home
And the equipment they use to roll back the dash
From the family of 6 she involved in the crash

The brush rakes in spring, wear the palms out
When the wind does a "90" to fill them with doubt
The thumb of the glove wipes the sweat from the brow
Of the face of a firefighter who mutters "What now?"

They hold inch and three quarters flowing one twenty five
So the ones going in, come back out alive
When the regulator goes; then there isn't too much,
But the bypass valve the eagerly clutch

The rescue equipment, the ropes, the C-collars;
The lives they saved never measured in dollars
Are the obvious things firefighters gloves hold
Or, so that is what I've been always told

But there are other things Firefighters Gloves touch
Those are the things we all need so much

The hold back the rage on that 3 am call
They hold in the fear when you're lost in a hall
They hold back the pity, agony, sorrow
They hold in the desire to "Do it tomorrow"

A gloves just a glove till it's on firefighters
Who work all day long just to pull an all-nighter
And into the fray they charge without fear
At the sound of a "Help" they think that they hear

When firefighter's hands go into the glove
It's a firefighter who always fills it with love
Sometimes the sorrow is too much to bear
And it seeps the glove and burns deep "in there"

Off come the gloves when the call is done
And into the pocket until the next call
The hands become lonely and cold for a bit
And shake just thinking of it
And they sit there so red eyed with their gloves in their coats
The tears come so fast that the furniture floats
They're not so brave now; their hands they cant hide
I guess it just means they are human inside

And though some are paid are others are not
The gloves feel the same when it's cold or it's hot
To someone you're helping to just get along
When you fill them with love, you always feel strong

And so when I go on my final big ride
I hope to have my gloves by my side
To show to St. Peter at the heavenly gate
Cause as everyone knows, firefighters don't wait.

Thank God
Sent to me by: Candi Powell


The brotherhood of Firemen runs deep in all our veins.
We love this job with all our hearts and our brothers just the same.
Although we have our little fights and disagreements at the station house.
When one of us is in need our brothers are there to help.
The brotherhhod is strong and true and consumes our very soul.
We will be brothers till the end, this vowel I do bestow.

Sent to me by: Tom


From the time I was born
she knew I was special
And with a gleam in her eye
she would tell me
"You're different from the rest.
You're better than the best".
As I looked up at her
with adoration in my five year old eyes
I told her
"I'm going to be a firefighter, Mom".

Many years later, many years older,
she would call after me
as I rushed out of the house
"You're the best at what you do
But please be safe, I don't want to lose you".
As I got into my car to race to the station
I would turn to scold her
"I'm a firefighter, Mom".

She was always worried.
She would always pray.
And one night, I over heard her say,
"Dear God, watch over my firefighter child.
There's nothing I can do.
I cannot protect him(her) like you.
For I am just a firefighter's Mom".

As I sit at her grave
I can't help but remember the person that she was.
She was patient, she was kind
and she was proud of me.
And as I look into the heavens,
I whisper to her,
"You were different from the rest,
Better than the best.
You were the best at what you did.
A I didn't want to lose you.
God is watching over you.
There is nothing I can do".

And then I whisper to God,
"Dear God, watch over my Mom.
There's nothing I can do.
I cannot protect her like you.
You see, she was different from the rest.
She was better than the best.
She was the best at what she did.
I didn't want to lose her.
She was a firefighter's Mom".

Sent to me by: Wendy Norris

President, Firefighter Ministries
Chairman, State Fire Marshal's LODD Task Force, Benefits Division
'Protecting & promoting the physical, mental, and spiritual welfare of
emergency service workers.'
www.firefighterministries.org

"A Mother's Prayer"


The alarm goes off, ready to go, all with no hesitation
Time to save a soul or a home, straight to that destination

This prayer's for my son, as that fire calls
Protecting the innocent and fighting flaming walls

Guide him with your strength, the courage to pull him through
Give him that breath of air, if he gets down to his last few

By chance he may get weak; do give him the will to stand
Carry him as you said, your" Foot Prints in the Sand"

He will have to lift or ax a door today
May your angels chip away, helping along the way

There's always the unknown, of what they call "back draft"
Secure your arms around him, and the others who have his back

Make way for him to listen, to hear that persons call
If he gets blinded, give him sight, direct him down that hall

Determined to break a window, to rescue that angry dog
Or fight the wild fires, to keep lands beauty how it belongs

Keep their team in motion, to know where one is at
They're taking turns in and out, of these fires that attack

When that duty's done, he'll have peace of mind
You were right beside him; he now thanks you for your time

Lord I ask this of you, I pray you watch over him
Help him always save the lives, then return him to me again.

"Dedicated to all Firefighters"
(Written by Carolyn Kay Carr)
Copyright©2007 Carolyn Kay Carr

This poem was written just after the disaster in New York, September 11, 2001.
Being a Volunteer Fire Fighter has brought many things into reality. The meanings of these paragraphs describe our duties for all Emergency Personnel, and the dangers of them.
They also describe the pride and fear as we work to help others. Many of us freeze, but then just go on to do the work and let the shock absorb as we finish the task.
We have all been taught that you look after yourself and your team, because if you don't…you will become a casualty, then someone else will have to drag you out.
But as most of us know when the adrenaline starts pumping, it seems you've received more strength and energy, your mind is buzzing with many questions and directions, while safety is put on the back burner (in some cases).
There are many questions asked such as how, why, when and where? As one gets hurt or killed at a scene.
This poem is dedicated to all Volunteer and Career Emergency Personnel.
Let us not forget the ones that have passed on, nor the ones to follow.
It is good to remember the past, because someday…
You will be a part of it!
Katharine Blohm
Clearview Fire Dept.
Ontario, Canada

Dedicated to our Fallen Heroes
You came into this lifetime for a purpose,
You may have followed someone's footsteps,
or
May have followed your dream,
Maybe you just joined to drive with lights and sirens,
but
You made it you life.
Your family had joined a larger family of caregivers,
Professionals, friends, and team mates.
As the days go by, you are called upon to assist
Someone in need,
Leaving your family known to you and love,
Knowing someday – something may go wrong.
Having this knowledge makes the Fire Fighters,
Police Officers and EMS Personnel
OUR Heroes
of the Past, Present and Future.
The times you saved a structure, a life
or
Doing the unthinkable,
You were there.
For all of you that have fallen,
There will be someone to continue your work
of
Caring and Heroism.
You will truly be missed,
and
Always Remembered.
Katharine Blohm
09/18/2001
Clearview Volunteer Fire Dept
Ontario, Canada

Firefighter's Diet

Firefighters love to eat, but away back then,
It was meat and potatoes and eggs from a hen,
And cheeses' and sauces and tarts and pies,
And bacon and sausage and real French fries,
Or rare red meat, taken from a cow,
With two pork chops, cut from a sow,
Firefighters love to eat, but now they are more wise,
Gone ,the bacon and sausage and high calorie pies,
Now egg whites and yogurt or bran with some oats,
Salads and lean meat and milk from old goats,
Feta with less pasta, an apple with green tea,
Decaf, no cream, with honey from a bee.
All these new diets do make us cheer,
But firefighters all, still like their beer.

by D.M.Bowles February 17, 2009

The Captain and his Son
I once met a man, who was wearing red suspenders,
He was driving a big truck, with shiny red fenders,
He was sporting a pot belly, and a day old beard,
He was a hulk of a man, with a grin to be feared.
I just now met the son, of the man with the grin,
He was wearing a badge, made out of tin,
He was lithe; he was spry, and wore a warm smile,
He was full of good humor, eyes glistening with wile.
The son and his dad, were having a beer,
They invited me to sit, and give them a hear,
Of the tale they had to share, of what they had won,
That day before their job was all done.
The inferno had raged, the situation was dire,
The house was alive, with the red of the fire,
The devil was laughing, because he had in his grip,
The soul of a child, and a heart to evilly rip,
From the breast of the mother, who writhed in her fear,
Because she knew that her child's end was so near.
But the devil didn't count on the man with the grin,
Nor, did he consider, the badge made from tin,
Or the truck that was red, or the men that it brought,
That was his folly, for he really should have thought,
That men with grins, that other men fear,
Will douse the red devil, and brag over beer,
And men with badges, made out of tin,
Will stop at nothing, to prevent the sin
Of losing a child, and the mothers loving soul,
To an evil devil, who belongs in a deep hole.
They had beaten the devil, and his evil way,
They had faced the fear, they had saved the day,
They had won the battle, so others had said,
The fire was out, the devil was dead,
Their duty was done, their reports were all made,
By the Captain and his son, of the Fire Brigade.
by D.M.Bowles March 3, 2009

His pager sounds, he kisses me, then he walks away.
In that very moment, my mind goes in disarray.
I sit around in the silence & around the phone, I roam.
I wait patiently for the text that says, "baby I'm home."
My mind begins to wander, now "is it a fire, car collision, or a sudden death?"
Sometimes I get so nervous I need to catch my breath.
I wonder how he feels & if he is alright.
But I'll always be there for him to talk to, when the time is right.
I'm aware of the dangers he puts upon his life.
But never will I ever second guess becoming his wife.
His life consists of "stand-by" each & everyday,
& mine consists of making sure I remember just to pray.
It's 2:50 in the morning & I can't seem to rest,
because the thing I value most is beating in his chest.
I often fear if it's his soul to take,
but with all the love I have for him, my faith will never shake.
When he gets onto the truck, his life is in the hands of God,
& a sense of calmness is what I tack on my facade.
Many emotions come forth & they all become combined.
He is simply a hero, I know that in my mind.
So here I sit in the dark with more worrying thoughts to roam,
but I know I'll rest when that text reads, "baby I'm home."
Katie Fitzgerald, June 11, 2011
---
Fire patches || Fire safety information || Firefighter poems

Last updated Tuesday, July 26, 2011

Return to Andy's home

© Copyright 1997 - 2011 ADWeb Page Construction